Discover our programs
The core mission of Aquila Aurea is to assist financially towards the education of under-privileged children in Indonesia. We hope to provide the necessary resources so that they can evolve and thrive in their communities. To that end, a major part of our funds will be dedicated towards education. We believe that an investment in knowledge is an investment in the future.
The Foundation's secondary mission is to help in natural disasters. Indonesia lies along the 'ring of fire' and is prone to earthquakes and volcanic eruptions. Our goal is to provide acute assistance to families and children, in the immediate aftermath of such an event.
"Education is the passport to the future, for tomorrow belongs to those who prepare for it today" – Malcolm X
"One child, one teacher, one pen and one book can change the world" – Malala Yousafzai
"It is a kingly act to assist the fallen" – Mother Teresa
The building blocks of education are created in schools and by teachers. We reach out to teachers in remote villages throughout the Indonesian Archipelago. They provide us with much needed insight on how best to allocate our donations.
Our goal is to accept disadvantaged children from Kindergarten up through high school into our sponsorship. Once accepted, we will provide financial assistance for the child until they have graduated high school. We pay for tuition, books, supplies and school uniforms as well as a hot lunch.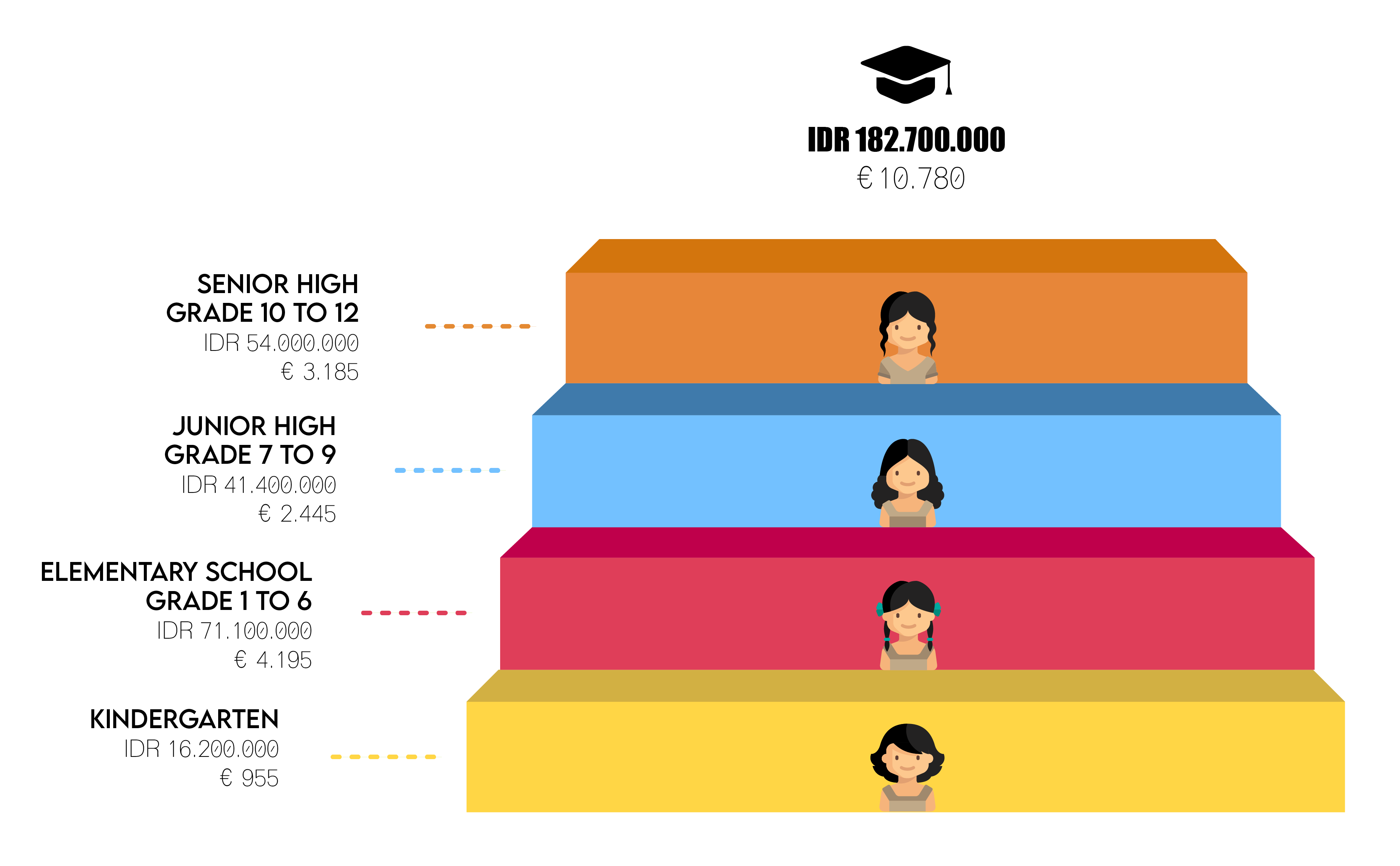 What does it cost?
Here is an estimation for a child's educational expenses from the time they enter Kindergarten until they graduate from Senior High School.
These fees include tuition, school supplies, uniforms, hot lunch, and health insurance. Fees may vary between islands and schools.
Children learn and evolve best in the stimulating and safe environment,  of a school.
Presently, we provide school supplies and assistance to areas affected by natural disasters or otherwise disadvantaged. Our future goal is to support maintenance and building or rebuilding of schools where they are most needed.
Are you are in search of funding for such project? Please contact us at info@aquila-aurea-foundation.org.
Indonesia lies entirely along the Pacific "Ring of Fire" which created dramatic and beautiful landscapes. Yet, it also makes the entire archipelago prone to volcanic eruptions, earthquakes, floods, and tsunami, which strike without warning.
Our foundation was created during one such earthquake. We will always be ready to offer immediate assistance to families and children, affected by these natural disasters. As we are made aware of these incidents, we try to react as quickly as possible to provide the victims with emergency supplies. Hand in hand with the communities, other organizations and local government of the impacted island, we assure the shipment and distribution of essential goods we donate to the people in the affected area.
We regularly follow up with the people who receive our donations.
Report: Sulawesi 2021
On January 15, 2021, a 6.2 magnitude earthquake struck West Sulawesi in Indonesia. An earthquake so violent, it was felt as far away as Makassar, the capital of South Sulawesi, and Palu in Central Sulawesi. Our Foundation provided emergency assistance to severely affected villages, families and children who were left in a precarious situation due to this heart-breaking incident.
"No act of kindness, no matter how small, is ever wasted."